I saw the fantastic film,
(500) Days of Summer,
last night and am still contemplating its overall impact. What I do know is that you must see this film, even if only for the completely novel take on the romantic comedy and most of all the incredible art direction - this is one of the most innovative and impressive directorial efforts I have seen in a while and it comes from a music video director, Marc Webb, making his feature film debut...amazing. While this blog does not focus on movies, this movie has music at its core and the soundtrack plays beautifully (and hilariously when Hall & Oates "You Make My Dreams" kicks in).
The movie introduced me to a relatively new band, The Temper Trap, from Mebourne, Australia that writes grandiose atmospheric guitar driven rock anthems and "Sweet Disposition" is a perfect example. The song comes on like an old-school U2 cover, but quickly takes on its own character. They just released their debut album,
Conditions
, in Australia and are releasing it in the UK soon (no US date yet). However, they have a ton of songs on their myspace page so check them out:
http://www.myspace.com/thetempertrap
. They worked on the newest album with producer maven, Jim Abbiss, behind the debuts of Arctic Monkeys and Adele so they should be household names in no time. Here is "Sweet Disposition":
LINK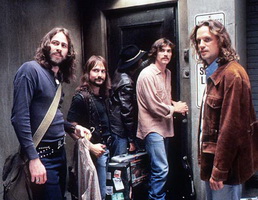 (Mark Kozelek is "just one of the out of focus guys" on the far right)
On the car ride back from the film, I stumbled upon an old favorite by Red House Painters, their cover of the lyrically brilliant "All Mixed Up" by The Cars (cover was recorded in 1996 and is found on the incredible record,
Songs for a Blue Guitar
). The song felt like a perfect fit for the film (for one of its more meloncholy moments) and captures (for me at least) the film's central theme. Matt Kozelek, leader of Red House Painters and also of Sun Kill Moon, is a master of the cover. He takes this already great Cars song, strips it down to its core and allows the lyrics (and his haunting voice) to stand front and center. (Fun fact in my research: Matt Kozelek is the bassist in Stillwater from
Almost Famous)
Watch the video for Red House Painters' "All Mixed Up":
LINK
Here are the stunning lyrics:
she shadows me in the mirror
she never leaves on the light
and some things that i've said to her
they just dont seem to bite
it's all mixed up (x4)
she tricks me into thinking
that i cant believe my eyes
that i wait for her forever
but she never does arrive
it's all mixed up (x4)
she said leave it all to me,
everything will be allright
she said leave it all to me,
everything will be all right
she's always out making pictures
she's always out making scenes,
she's always out the window
when it comes to making dreams.

Enjoy,
MD